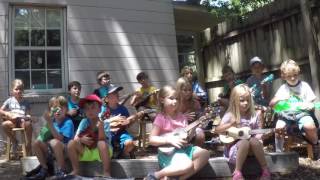 LowCo Guitar Half-Day Summer Camps 2017. 9am-Noon.
At Clay Cottage, 1123 Chuck Dawley Blvd.Mt Pleasant, SC 29464
 Contact: LowCoSuzukiGuitar@gmail.com
SummerCampRegistration2017 
 


 Ukulele Camp
June 6-9, June 12-16, July 31-Aug 4, 9am-Noon
$150 ($25 Discount before May). Ukulele provided in class or BYO. Learn to play several songs by the end of the week, read music, chord diagrams, and jam with the group! Ages 5+.
Songwriting Camp – Guitar & More!
June 19-23, 9am-Noon
$150 ($25 Discount before May). Bring your instrument and let's work on turning your creativity into songwriting! Wether you sing and strum or play a classical instrument, we'll create some songs and record them! We'll listen to your favorite song (wether by 21 Pilots, Taylor Swift, Bach or The Beatles) and learn how they made their hits! Ages 8+ or Instructor permission.
Music Recording with iPad
June 26-30, 9am-Noon
$150 ($25 Discount before May). Wether you play an instrument or you are interested in producing drum beats you can learn how to do both on your iPad or MacBook w/ GarageBand app. We'll also explore songwriting with instruments. Your Ipad preferred. Ages 10 and up or Instructor permission.